Central Coast News
A Tale of 2 Eagles
Source: Steve Westnedge
Archived 16 May 2017
- Posted: 17 Mar 2017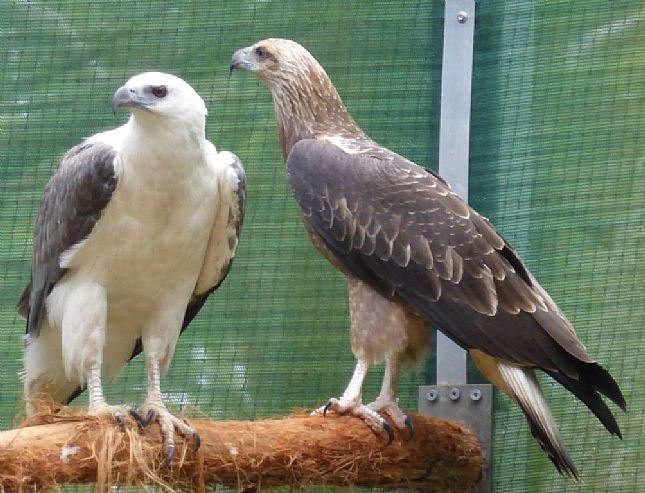 Do you ever remember being lost as a child? Separated from your parents at the shops and not knowing where they were and the realisation that you were all alone? Or how about the fear you felt as a parent when you realised that your child had wandered off somewhere out of sight and you didn't know where they were, only to feel that overwhelming sense of relief when you find them hiding in amongst a rack of half price track suit pants and flannos and you are finally reunited!
Around 1 hour north of Sydney on the central coast, there is a family of White Bellied Sea Eagles, who not unlike there other wild counterparts, live along our beautiful coasts and waterways. With their distinctive white head, chest and belly you may have been lucky enough to see an adult White Bellied Sea Eagle majestically perched in a tree or swoop down to catch a fish from the ocean or a river.
But this is precious real estate where they live! As humans, we too share this love of the rivers and the oceans and so desperately want to have a house built with uninterrupted water views. Developments that often force our native wildlife to either adapt, relocate or perish.
White Bellied Sea Eagles are opportunistic feeders who can be best described as hunters, pirates and scavengers. They are known to not only catch their own prey such as fish, eels, sea snakes and turtles, but they will harass other smaller birds like the osprey or kite and force them to drop their food and steal it from them. They can also scavenge on the carcasses of dead seals and other animals that might wash up on our coast lines.
So our Central Coast family of eagles chose to adapt and to use their human neighbours to their advantage. They found that their best hope for food came at a local rubbish tip and that they would develop their skills at hunting birds; predominantly the ibis that lived at the tip.
Sea Eagles can breed once a year and lay between 1 to 3 eggs, usually 2, in a nest that the parents build together. Young eagles have a very tough life and many don't survive but for roughly the first 9 months of their life, they are heavily dependent on their parents for food, shelter and survival.
Just after Christmas 2016, Peg McDonald at HigherGround Raptors in the NSW Southern Highlands, got a call from Wildlife ARC and carer Jacky Hunt about a young White Bellied Sea Eagle that was found in a chicken coup in Jilliby on the NSW Central Coast. He was weak, underweight and in desperate need of help. Jacky immediately took him into care and started the rehabilitation process in the hope that he would soon be strong enough to travel down to HigherGround Raptors, continue his recovery and eventually go into The Peter Spitzer Free Flight Aviary, the largest raptor rehab aviary of its kind in the southern hemisphere, where he could, like many eagles, falcons, hawks and owls before him who have come into HigherGround for care, gain the strength and physical fitness to be released back into the wild.
Approximately 2 weeks before the juvenile eagles arrival to higher ground, Taronga Zoo Wildlife Hospital took in an adult White Bellied Sea Eagle who had been shot around Quorrobolong near Newcastle and was found similarly in another chicken coup struggling to survive. They operated on the eagle and upon his recovery, prepared him for transport down to HigherGround Raptors for further rehabilitation and flight fitness recovery.
Now what seemed pretty interesting to the HigherGround team; was that here you have 2 different sea eagles that had been rescued from 2 separate chicken coups around 2 weeks apart by 2 different native wildlife rescue groups, and with further investigation into the exact whereabouts of these eagles the rescue team revealed that they were found approximately 20kms from one another... as the eagle flies.
Without the help of a parent bird to supply food for survival, a young newly fledged eagle would definitely be struggling and desperate to do anything to find food.
Now remember that family of eagles that lived by the tip and hunted ibis? Could it be that an injured parent that hunted birds sought out the only easy meal it could after being shot and found those chickens? And could it be that a young eagle, on the verge of starvation, who had only ever been fed ibis by its parents, called upon every instinct it had and everything it had ever learned and found the only source of bird it could eat in a chicken coup?
Whatever the case may be, Peggy was very keen to see how these eagles interacted when they were introduced. Initially the 2 were put into separate aviaries that were side by side, but the 2 immediately got as close together as they could, yet they were still separated by the shade cloth and wire mesh. It seemed like they recognised one another! So they were then put into a larger area together and the 2 eagles immediately flew up to the same perch and began preening each other, calling gently and slowly flying together. There was definitely a connection here and to us at HigherGround, it felt like there was a sense of joy and relief when the 2 eagles were, as it seems, reunited.
They have been inseparable ever since and are now flying beautifully in the flight aviary and are being readied for release together back into the wild. One of the birds will be fitted with a tracker so the safety and progress of this eagle can be monitored, but unfortunately HigherGround Raptors have limited resources and are unable to fund a tracker for both birds.
This fantastic result is a testament to those wildlife groups that are working tirelessly for our native wildlife and these 2 eagles are living proof of how vital the role of communication is between these organisations. Without it, this little Sea Eagle family may never have been reunited and although we do not have the funds to do a definitive DNA test to know for sure whether the 2 eagles are related; based on their behaviour, the timing and the location that they were rescued; the team at HigherGround are fairly confident that the 2 are in fact father and son!
For more information or if you want to support these eagles or help any of the native raptors at HigherGround Raptors to get back into the wild please visit ww.facebook.com/HigherGroundRaptors/ or the Australian Raptor Care and Conservation Incorporated website.
This article archived 16 May 2017
Recent News
What's New
See also: