What's On

Expired Event - Four New Exhibitions at The Gosford Regional Gallery - 18 Feb 2017
This is a past event:
Search for New Events »
Four New Exhibitions at The Gosford Regional Gallery
When:
Every day until Sun 02 Apr 2017
Time:
Gallery: 10am until 4pm
Details:
Following the recent success of two blockbuster exhibitions during the holiday period, Gosford Regional Gallery is continuing its commitment to diverse and stimulating programing, with the opening of four new shows on Saturday 18 February.

The new exhibitions include:

Australian exotica: from Monash Gallery of Art's nationally significant collection of Australian photographs.
The Doug Moran National Portrait Prize, Australia's richest art award of $150,000.
Illuminate: an installation from regional northwest New South Wales.
A Matter of Time: an international textile exhibition exploring the concept of time. NB Closes on 22 March!

Council's Connected Communities Group Leader, Ms Julie Vaughan said that the Central Coast had an exciting program of visual arts to look forward to.

"It's wonderful to have such diversity amidst our exhibitions at the gallery, each reflecting important aspects of our program," said Ms Vaughan.

"We are delighted to be bringing The Doug Moran National Portrait Prize to the Central Coast for the first time.

"Over the past 28 years, this highly respected prize has encouraged excellence and creativity in Australian portraiture."

This exhibition includes the top 30 works selected for the 2016 Prize.

The winning work by Megan Seres, depicts her daughter Scarlett as the eighteenth century child convict, Mary Wade.

"The painting Scarlett as Colonial Girl was first inspired by my daughter's school assignment on colonial history, along with her acting role as Mary Wade at Kiama Public School," said Ms Seres.

"Mary was only 11 years old when transported to Australia as the youngest convict in the Second Fleet.

"I like to connect history and memory within portraiture and painting."

The exhibition Australian exotica, features 11 Australian photographers including Tracey Moffatt and Destiny Deacon; and examines history, identity and what it means to be Australian.

The idea of Australia as a colourful and exotic land 'down under' is questioned by some of the artists, whilst others celebrate it as an important part of our national identity.

The artwork Illuminate features a replica 'mission home' clad with hand-made paper, this community-driven artwork captures the aspirations of the Goomeroi people in northwest NSW.

Ms Vaughan added that the engaging project portrays the region's history.

"The stories and experiences of this community's young people, artists and Elders are captured in sound and film and projected onto the walls of the replica mission home – this brings the work beautifully to life," said Ms Vaughan.

The gallery's final exhibition A Matter of Time uses textiles and quilting techniques to express different ideas about the concept of time.

The exhibition, curated by Brenda Gael Smith, includes work by artists from Australia, New Zealand, the United States, United Kingdom and Canada.

Together, these four new exhibitions from leading artists and organisations, demonstrate Gosford Regional Gallery's ongoing commitment to strengthening the reputation and accessibility of visual arts on the Central Coast.

DATES:
Australian exotica: an MGA travelling exhibition: 18 February – 2 April
Doug Moran National Portrait Prize: 18 February – 2 April
Illuminate: 18 February – 2 April
A Matter of Time: Exploring the Fourth Dimension in Cloth: 18 February – 22 March

For more information on these exhibitions please phone, or visit our website.

Location:
Gosford Regional Gallery
36 Webb Street
East Gosford
Contact:
Gosford Regional Gallery on
4304 7550
Share Event
Share
Four New Exhibitions at The Gosford Regional Gallery

with friends.
What's New
Everest Team Events -> Outdoor, Indoor and Evening Activities for Corporate Clients
more »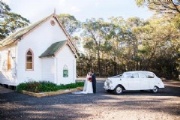 Mangrove Mountain Union Church, a wonderful venue for your marriage celebration. Bookings Bryan Sullivan 0408722006
more »
What's On Menu: