Firescreek Fruit Wines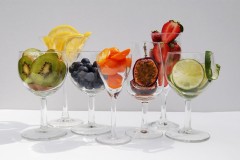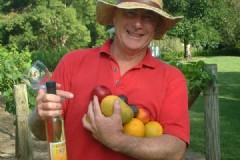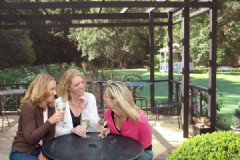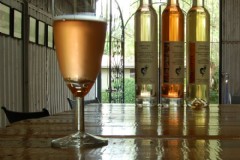 A Fruit-ful Experience
Firescreek Fruit Wines handcraft an exciting variety
of wines from Fruit, flowers and herbs in small limited releases. There is a constantly changing selection throughout the year to reflect the changing seasons. You may find wines such as Elderberry, Mango, Fig Passionfruit, Plum, Strawberry, Our famous Firewater, a fruit wine made from Sweet Oranges and Chilli or Lime and Parsley.
Gold Medal and Wine of the show - 2007 Australian Fruit Wine Show, Hobart, Tas.
It's difficult to stand out in a world of homogenised, sterilized, uniform mass production. You want to let your senses experience new things, explore new tastes, but how, where?

Finally there is a way. If you've felt left out by the grape wine industry or just want to let your tastebuds experience new things, Firescreek Fruit Wines is remarkable in that it takes traditional time tested winemaking and combines it with the sensational tastes and flavours of fresh and lively fruits, flowers and herbs to give you the special experience you have been searching for.

Fruit wine is the new and exciting and delightful adventure in wine enjoyment.

For Peter and Ellie fruit winemaking started many years ago with a desire to preserve the rich harvest flavours of ripe citrus, figs and apricots from their own organic orchard. To capture the mouth-watering freshness of ripe fruits in warm summer days to enjoy long into the cold winter months.

Fruit wine is all about uniqueness and capturing the exciting array of flavours and fragrances of fruits, flowers and herbs.

We take the ripe fruit, crush it just as you do with the grape, add yeast and wait and wait and wait and voila! A fruit wine! Oh it really is a little more complicated than that but fruit wine is made in a very similar way to a traditional grape wine. A lot of patience, courage and dedication.

The winery at Holgate on the NSW Central Coast has been established in a beautiful rustic outbuilding set on 2 ½ gorgeous acres. The "tin shed" epitomised the blending of old techniques with new ideas. It's kooky, yet traditional making wine with fruits, flowers and herbs. Mango, plum, Berry, Passionfruit, Rose and Elderberry, Fruits of the Australia Rainforest and the uniqueness of chilli in wine.

The cellar door is open for wine tasting 5 days a week and is set amongst the gardens and ponds where ducks paddle. The bird life is abundant along Fires Creek from which the winery takes its name. The Lillipilli and Eucalypt, Bangalow and Cabbage Tree palm grow thickly along the banks. Each time of the year is special at Firescreek and always there is a sight or sound to delight the senses. From the rich greenness of summer to the orange and russet hues of autumn. Winter sees the snug fire in the winery and the orderly trimming of the tiny vineyard (for yes we grow grapes too). Come and visit us!

How To Get Here..
Just A few minutes from Erina. Heading north, take the Carlton Road roundabout turnoff from the Central Coast Highway just 1 km noth of Erina and follow the signs for 3 kms to the winery.
Firescreek Fruit Wines
Phone:
(02) 4365 0768
Address:
192 Wattle Tree Rd
Holgate NSW 2250


Central Coast Information
Other Resources