Central Coast News
Is the road to Self Discovery still on the Map?
Source: Pretty Peepers Cabaret
Archived 5 Jun 2017
- Posted: 6 Apr 2017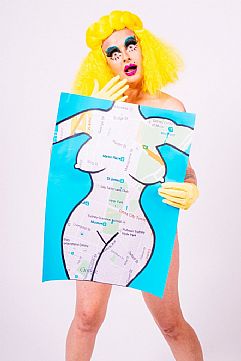 Australia's cult pioneer of Performance art brings her multi nominated, award winning show to the ARTHOUSE theatre @ Wyong. The Central Coast local from Umina Beach has never brought her brand of red-light comedy and social commentary to the Central Coast and is very excited to utilise the world class Arthouse theatre, "It's about time professional artists can have a place which is on the pulse and providing the facilities any theatre goer would expect."
Psychedelic, Satirical, Personal & Political storytelling that's packed to the rafter's with puns, punches & possibilities. BODY MAP is deep dive across the consumer bordered planet and into our inner being, highlighting our capacity to transform despite the odds.
Navigating who we are has never been tougher, access is blocked with the promise of beauty and perfection. The personal highway to our soul is in multilane gridlock, diversions to the self at every exit.
An overview into an authentic human experience, a nudie run through a different lens. Tales of the 80s and 90s, Sydney subculture & beyond. This is Theatrical storytelling sprinkled with comedy & dash of soul food.
Glitta Supernova returns home to the Central Coast direct from Dunedin Fringe Festival New Zealand with her new show Body Map, bringing with her a total 6 nominations and 3 awards including winner of the Top Gong "Best in Fringe 2017" award as well as taking out "Best Cabaret 2017" & "Most Outstanding Performer" awards. Premiering to sell­-out crowds for its Perth season in February as selling out its Sydney Mardi Gras Season last month.
Body Map will continue onto Newcastle & Northern Rivers with yet another Sydney "back by popular demand" show before heading south to Victoria.
More Anarchy, Bingles and Chaos than you could poke a selfie stick at.
"A Tiki tour like no other through the highs, lows and bouncy bits of the life of an Ozzie party girl in the club scene of the 90's." Theatreview
"Original, Outlandish, provocative & not to be missed" Macandmae.com
"Uses her considerable physical charms and enormous comic talent to entertain, shock and provoke her audience with an audacious, hilarious and sharply political show. Don't miss it!" Theatreview
"The artists red light surrealism broke new ground, Body Maps socio political commentary on objectification and the beauty myth pulled no punches" Otago Daily Times
---
Body Map
Date:
Saturday April 22nd, 2017
Time:
8pm
Venue:
The Arthouse Theatre 19-­21 Margaret Street Wyong NSW 2259
This article archived 5 Jun 2017
Recent News
What's New
Christmas in July at Linton Gardens
Linton Gardens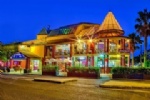 Cinema Paradiso in Ettalong
Cinema Paradiso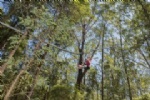 Australia's first rollercoaster zip line
TreeTop Crazy Rider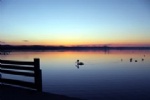 Do as little or as much as you like...
Lakeview Tourist Park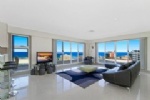 Welcome to Sandy Cove Apartments!
Sandy Cove Apartments
See also: