Central Coast News
Free Super Reform Targets & Opportunities Seminar
Source: Robson Partners Financial Services
Archived 6 Jun 2017
- Posted: 7 Apr 2017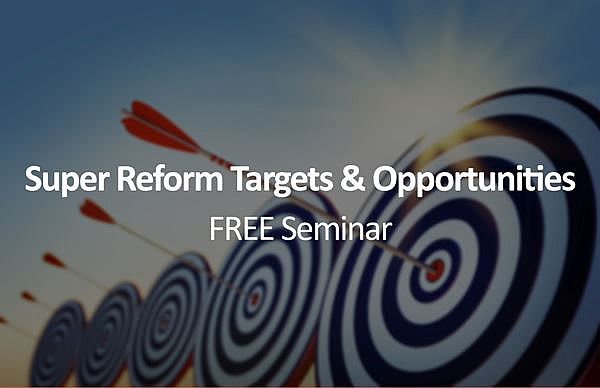 Join Financial Advisor, David Evers, in a Free 90 minute briefing on the significant Superannuation changes since 2007, and find out what these changes could mean for you, with most changes becoming effective from 1 July 2017.
The changes that the Government announced in the 2016 Federal Budget are now in place, with the key reforms coming into effect from 1 July 2017.

These are the biggest changes to happen in Superannuation for over a decade, and they will have an impact for decades to come, and not just those with a large Superannuation balance. The laws are very complex, far reaching and have to be complied with.

Business operators (and their key staff) will have their retirement strategies affected by the new legislation that is now law. Each superannuation member will need to review their strategies, to make sure that they are ready before July 1 2017.
Robson Partners are running special complimentary education events to help explain the impact of these new changes to our local community. Our next Super Reform seminar will be held on Wednesday, 19 April 2017 at 6pm.
By the end of this event, you will know:
About the $1.6 million transfer balance
Changes to Transition to Retirement (TTR) Pensions
Transitional CGT relief to assist with complying with the above changes
Reduction in the Div 293 high income threshold
Reduction in the concessional and non-concessional contribution caps
Catch up of unused concessional contributions
Allowable personal deductible contributions from 1 July 2017
Carry forward of unused non-concessional contributions
Changes to the tax offset for spouse contributions
---
Super Reform seminar
Date:
Wednesday, 19 April 2017
Time:
6pm
Venue:
Robson Partners Boardroom
Suite 14, Level 1
207 Albany Street North, Gosford NSW 2250
Bookings:
To reserve your seat, click the link below or call Donna from our office on (02) 4320 0512 for more information!
This article archived 6 Jun 2017
Recent News
What's New
See also: